M3Schedules of Rates
Control the cost and quality of building maintenance work
Request demo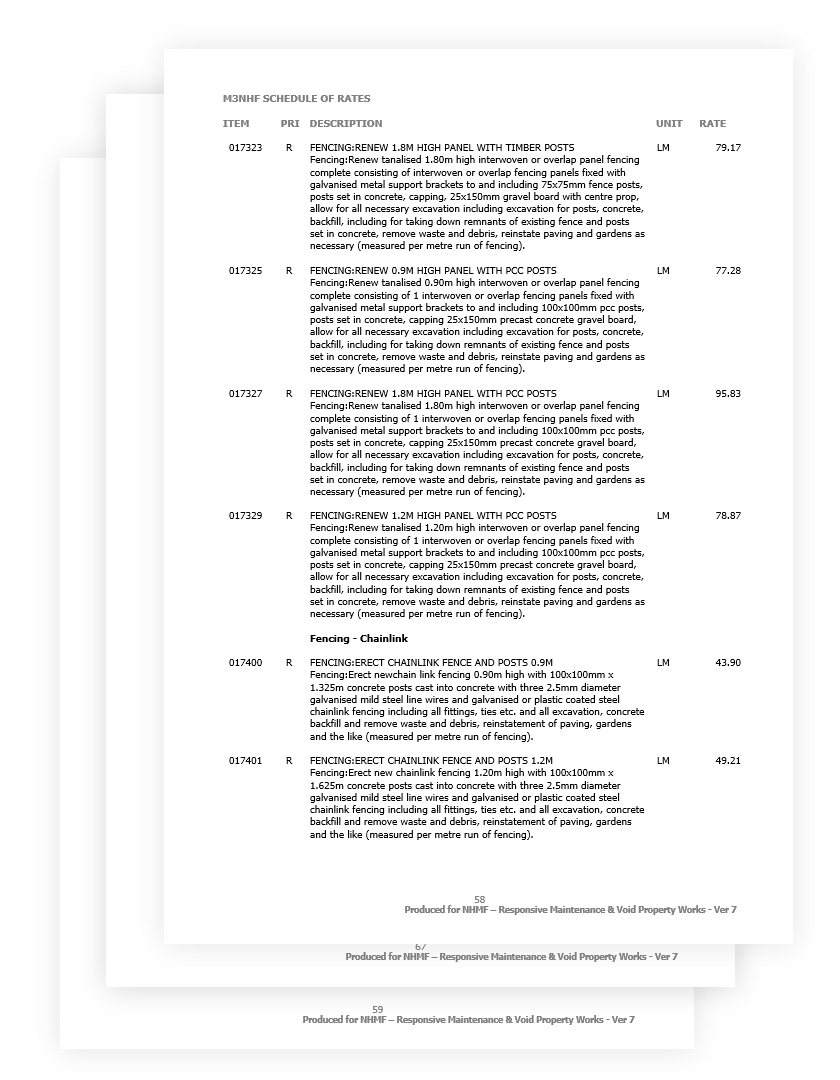 Let's talk M3Schedules of Rates
Comes with everything you need to specify repairs, let a measured term maintenance contract and control housing maintenance costs and quality.
The M3NHF Schedule of Rates
It covers responsive and void repairs and renewals to social housing and contains both composite and elemental descriptions which are fully priced and compatible with all leading repairs ordering systems. It is also supplied with a comprehensive Technical Specification and the NHF Form of Contract 2011 (REV4:2016).
M3NHF Specialist modules
Fully specified schedules of rates for planned maintenance, repairs ordering, voids ordering and specialist areas of work including complete contract conditions that help you to define the work and cost of each maintenance job for residential dwellings.
The modules can be switched on in M3Central so that works orders can be organised and exported as a single list
Facilities management Schedule
Contract conditions, specification and description of works for maintenance work on public, healthcare and educational buildings, leisure facilities, residential care homes, commercial properties and residential accommodation
Repairs, Improvements, Maintenance and Voids Ordering Schedule (RIMVOS)
Supplied with the NHF Minor Works Form of Contract and Preliminaries/Service and Technical Specification RIMVOS is most suitable for smaller organisations looking to control the cost of the property repairs and improvements. It includes all trades, servicing and renewal of gas boilers, void clearance and cleaning, pest control, renewal and repair of white goods, and improvements to kitchens, bathrooms, central heating, rewires, electric space heating.
Additional documentation
Price per property/price per void - A new set of contract conditions that cater for the procurement and management of contracts to be let on a price per property and price per void (PPP/PPV) basis.
M3NHF Schedules - Model Contract Notices - Our new Model Contract Notices save you time, and ensure notices to contractors are issued correctly.
Customisation
The M3NHF Schedule of Rates was recently tested in a court case and we are reassured that the contract documentation was found to be robust. However, the case highlights the risks involved with altering or substituting parts of the documentation which may expose the client to future risk. Subscribers preparing for tender may wish to refer to the details of the case.
expand_more
Choose the right schedule for your project
Whether you need a schedule for housing, planned maintenance or facilities, we have you covered
M3NHF
Specialist Module
For specialist areas of work
For planned maintenance
For repair and voids ordering
Find out more
M3NHF
Schedule of Rates
For social housing maintenance
Covers responsive and void repairs and renewals.
Comes with NHF Form of Contract 2011 (REV4:2016).
Find out more
M3
Facilities Management
For maintenance work on public, healthcare, commercial, educational, leisure, residential, etc.
For any other properties that are not social housing
Visit FM website
A community of users
When purchasing M3NHF Schedule of Rates you join a community of users and benefit from:
codeUser-led system development
data_usageExperienced support
insert_invitationProject management
timelineAccess to standard text
Get quote / order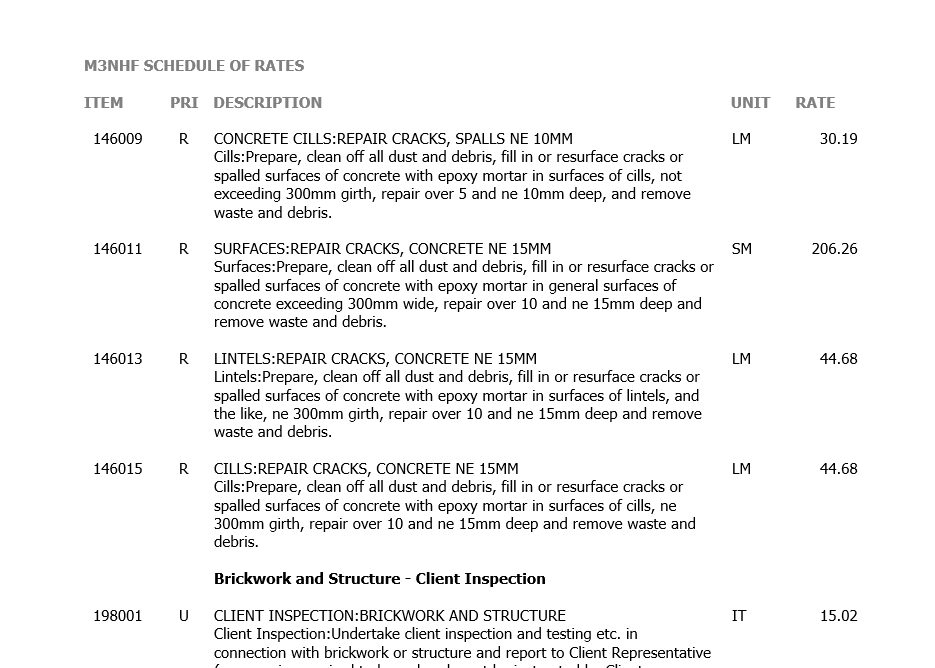 Here are some of our clients
How can we help?
Need a demo, training or support? Click one of our links below